27 Aug 2013, 03:41
Hi Guys!
I have been working on a new watch for about a year now. I wanted to make a new Nixie watch in a smaller case with more features. I realized that I could only make it small enough to suit my wife's wrist if I got rid of the large battery and 1 of the tubes. The immediate problem was then that I had to use a rechargeable battery as they are smaller in size. I didn't want to design something that needs to be charged by connecting a cable and charger to the watch. I modified my current Cold War nixie watch with 1 solar panel and a small lipo battery. This had a low charge current so I decided to take 2 panels rather than 1. I walked around with that for a couple of months and was convinced it would be the way to go. I then designed a new case to hold a new electronic module that had 1 tube and 2 solar panels. I wasn't too sure at that time if it would actually be convenient to read, but thought it would be ok, so went with the idea.
As the watch would loose it's decorative feature (the battery sticker), I thought of something that would be a good alternative. The left and right hand side of the watch have some recessions that hold tiny disc magnets. An insert can be put here and held in place by the magnetic force. This insert can be decorated with for example nail polish to give it any colour you like. Nail polish is cheap and comes in many varieties (including glow-in-the-dark ones), so that is quite cool. Thinking about this idea, I actually thought it would be clever enough to get a patent on it, and so I did!
After designing the electronic nixie module, I didn't see any reason why not making an LED module as well, so I made 2 modules for this case, 1 Nixie module and 1 LED module.
The case is hard anodized aluminium with a stainless steel base. The glass is a strong 1.5mm thick AR coated scratch resistant Sapphire crystal. It is probably the only LED watch with a real sapphire crystal??
The battery is a 180mAh Lipo battery. Under normal usage (say 50 readings per day), a fully charged battery will last for about 6 months (without any charge current)!! To keep the battery charged, you need about 10 minutes of direct sunlight for each day you wear the watch. It is not recommended to just throw your watch in the midday sunshine for a couple of hours as the Lipos do not like to be charged over 45 degrees centigrade. So just pick the morning or late afternoon sun rays or charge your watch outside during lunch break while wearing it. The wrist will act as a heat sink while wearing the watch, so the battery won't overheat so quickly.
The solar panels have 3 functions, they charge the battery, they measure the ambient light to set the tube brightness and they take over the function of the Cold War motion sensor. So similar to the Cold War nixie watch, this watch can also be activated through motion although electronically in a very different way.
Extra features of the Mi Esposita watch are: Day of the week indicator; full calendar date (dd/mm/yy); battery reserve indicator; battery full indicator.
Size is 45x40x16mm (45mm including the 2 embellishment inserts)
Strap width: 24mm
Center of the 2 spring bars is 45mm
Weight 88gr including strap (slightly more than the Cold War (82gr) ??)
My wife wearing the Mi Esposita LED watch on her 6.5" wrist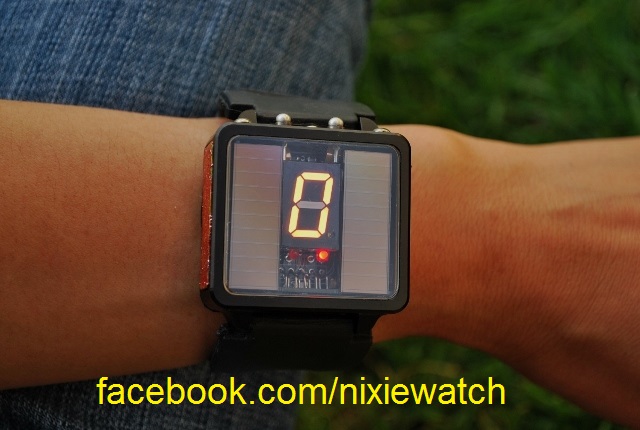 The two modules LED vs Nixie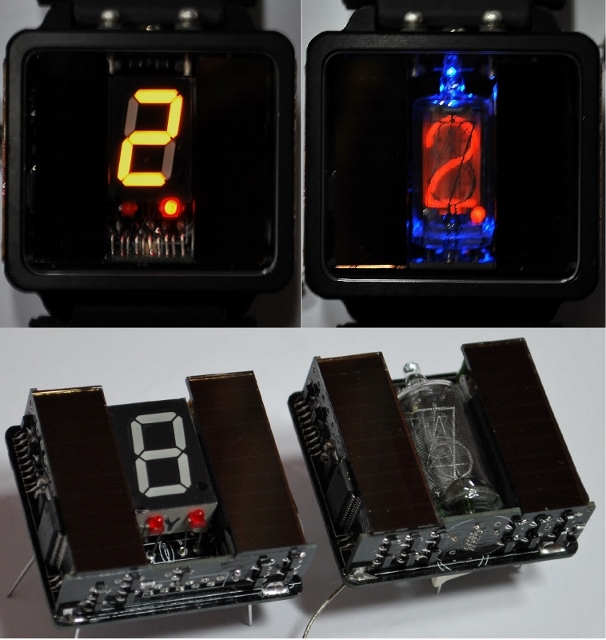 Embellishment feature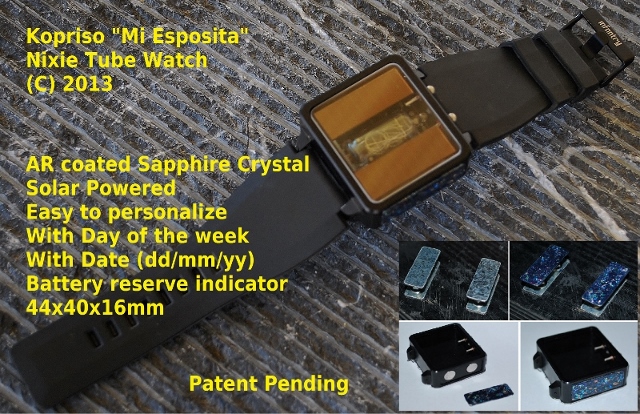 This is not the official strap by the way. I have a custom made strap in the making but haven't received it yet. This was just a strap I had lying around and happened to fit
Michel
http://www.facebook.com/nixiewatch