Techno Mage
Posts: 558
Joined: 05 Feb 2007, 17:58
Location: VANCOUVER, B.C.
01 Sep 2018, 21:34
update:

looking at the manual the calendar goes from 1901 to 2100. Dates from 1901 to 1999 show as a four digit date. Years from 2000 to 2100 appear as a two digit number:

Ex). 1901 = 1901; 1999 = 1999; 2018 = 18

Still my paragraph on equivalent years is applicable for watches like the Seiko M154 who's calendar only go to 2017)
I love this watch, a Citizen Multi Alarm (2) World (3 letter code cities) with stop watch and countdown timer on original bracelet circa 1983. Case and module number:
4-099222 TA
41-5014
Picked up two junked and very sad looking cases with modules. Some blue copper sulphate on all circuit boards. One case with missing stem and stem case tube. Another with smashed crystal (will get one cut).
Stripped down both modules and selected the best of each. Nothing discarded as another module/case is on its way. I am hoping to get at least two running from what was 3 junked watches.
For more on the watch see digital watch library (incredible source including manual):
http://www.digitalwatchlibrary.com/DWL/1work/citizen-41-5014
Quite a few mechanical levers and contacts attached to the stem. The stem is a push, neutral and pull three position. Two push buttons for setting while the stem is for mode changes and setting within mode changes. See manual as this watch packs two push buttons and a three position stem into one package to allow the following:
1). Time
2). Calendar with memo function
3). Alarm one
4). Alarm two
5). World time with three letter city codes: ex) LON, DEN, CHI (London, Denver, Chicago)
6). Count up stopwatch
7). Count down timer.
The LCD panel is dual layer for time functions and calendar/memo display. The date year selection goes up to 1999 and stops. There is no way to set the day of week except by finding the equivalent calendar year prior to 1999. For example 1990 calendar is equivalent to the 2018 calandra. So while setting the watch I selected 1990 in the year section. This correctly set the day of week. Here is a site that will give equivalent calendars:
https://www.timeanddate.com/calendar/repeating.html
So if your digital watch requires the year for correct operation and the memory was too limited to include dates to 2100 then check out the above web site.
Both modules had major failures and there are two separate circuit panels per module. The circuit panels are connected vertical via 6 tiny springs. I had to cut and use springs from watch strap spring bars. My stock had perfectly sized spring diameters in a gold colour like the missing originals (someone had been inside and obviously lost them). As well there are two springs which contact the case back and piezo that were missing.
One module had corrosion badly on the stem setting mechanisms and levers. One had broken setting/contact lever due to the corrosion. Also missing was a contact mechanism which allows the push mode selection to function. The second module had a defective alarm circuit which I am trouble shooting.
So the following pictures are of a watch containing parts from both donor modules. This watch functions and looks perfect (in my eyes). So from two defective non working donors here is the result including:
1). functioning push mode selection.
2). Functioning alarm.
3). All lcd segments functional (initially they weren't).
4). All three sections (tripartite) of the case cleaned, derusted, polished and brushed to original factory standard.
Page one of the display: Local time display
Calendar showing month and correct day association because I have selected year 1990 while setting the watch, also you will notice the 1 is not showing, it flashes to indicate the current date and the photo caught it between the flash.
Here is the calendar with two memos set, one for the 5th and one for the 6th of September. These digits cycle on and off to indicate a memo is occurring on that date. You will notice the 1 is also blank but that is because it flashes (photo taken on Saturday the 1st) at twice the frequency as the memo 5th and 6th to indicate today's date.
Alarm one followed by alarm two:
World time selectable to 27 zones and 22 cities. Zulu or UTC is not labelled but selectable as "- - -" hence more zones then cities. Here you see LON selected:
Stopwatch to 11:59: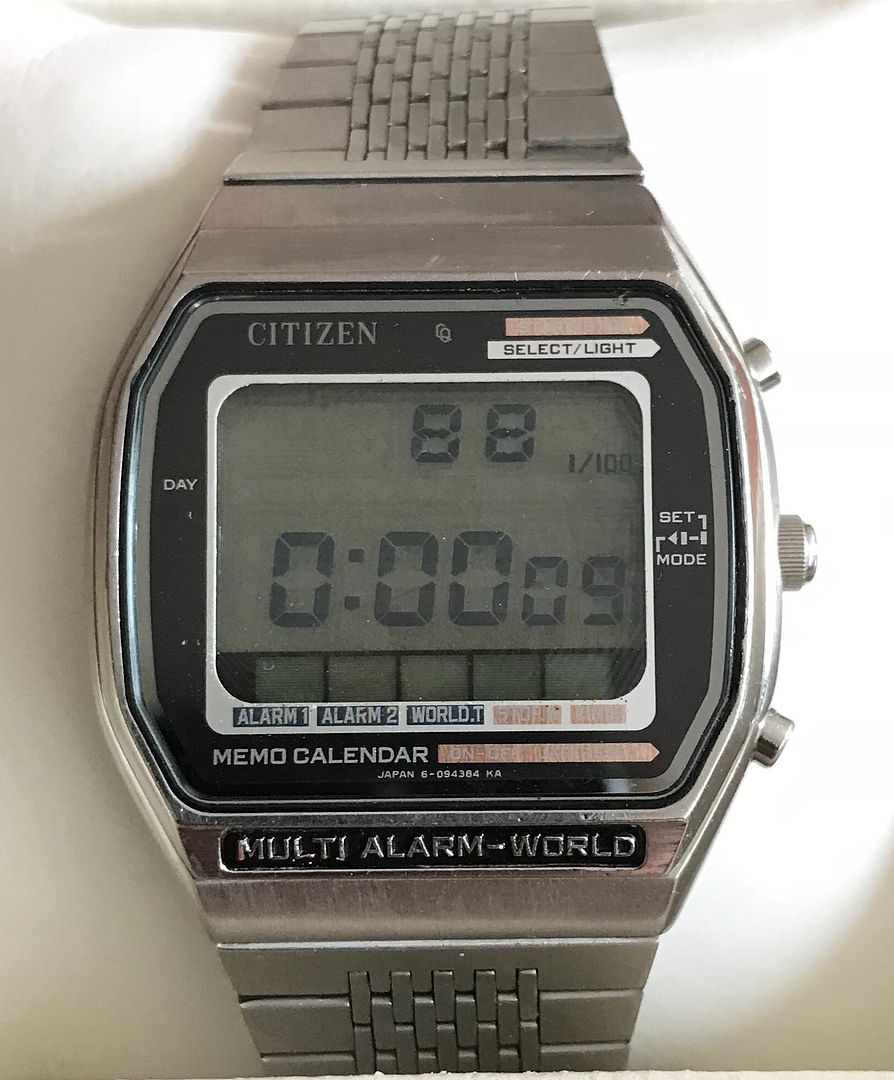 Timer from 11:59 to 0:00
Only downside is the timer and stopwatch can not be run simultaneously. Probably due to the limited ROM available to control the functions.
All in all a pretty impressive amount of functions packed into one watch!
Cheers, Geoff
If anyone has a spare crystal or knowledge about a source along with the case crystal gasket and upper beagle to case gasket I would appreciate a line. Also any dead modules hanging around?
Cheers, Geoff