Techie
Posts: 233
Joined: 03 Jun 2015, 17:40
Location: EU
05 Jun 2017, 23:07
As some of You may know, I am on a quest to complete the line of the "true" precursors of the present-day smartwatches on my small collection...E.G. early digital watches that had direct communications with early computers or even wireless communication with some sensors or some input devices (e.g. keyboards, heart rate monitors etc etc), early PIM/PDA (Personal Information Managers/Personal Digital Assistants) watches with some serial/IRDA interfaces with the computers etc etc...
So, what I will try to present to You now is an early PIM/PDA watch which is really a "missing link" between the Timex/Microsoft Datalink (1994) PIM watches, Seiko Ruputer (1998) and the Fossil Abacus (2001-2004) Palm/Wrist computers:
My newest watch...The almost unknown Zeon Tech CyberX PDA watch (cca 1999)..
.
It had:
- a DOT MATRIX display of roughly 30x15 pixels + some other display areas on the LCD using a regular non dot-matrix display!
- time, calendar (up to 2039), daily alarm, 1/100 chronograph with multi split/laps
- schedule (max 50 records)
- phone and e-mail addresses (up to 250)
- personal data/medical records (up to 13)
- information storage including travel, sports, entertainment, websites
- various animated graphics images on displays
- bidirectional serial communication with computers running Win 95/98 OS (note:or beyond using virtualisation
)
etc etc
Please see the photos below: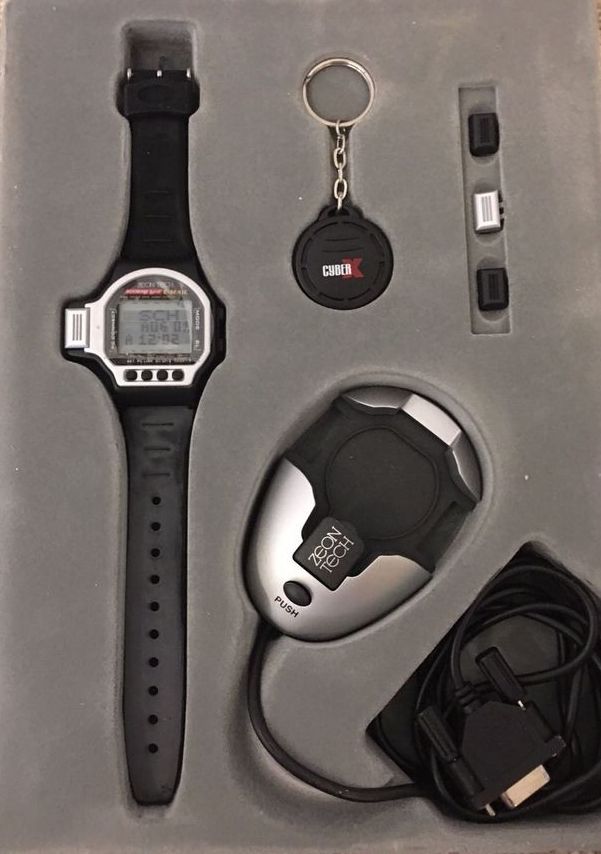 Regards,
Every watch should have its own story...consequently, a watch collector has to be a good storyteller

:)