Techie
Posts: 127
Joined: 08 Jun 2015, 16:23
Location: Moscow, Russia
02 Aug 2018, 05:07
I interested in history of russian way of electronic watches. So of cause I collect first watches produced in USSR. First protos of LCD watch were ready to the end of 1973, all documentation was ready in August 1974, production started in November '74. There were produced approx 40 000 watches of first version.
Here a bit more info about these watches
http://www.newdwf.com/viewtopic.php?f=58&t=7867
Recently I found really crazy watch.
It has normal cirquits common for these watches, but it is fully different. Different both plates, plastic base, display. According to number it was produced in March-June 1975. It was produced not before or after other watches, but in the mid of production. That's why it is a mystery - for what reason it so different.
Here it is:
The watch has dial more common for later versions of watches, started in March 1976. This dial has bigger window for display.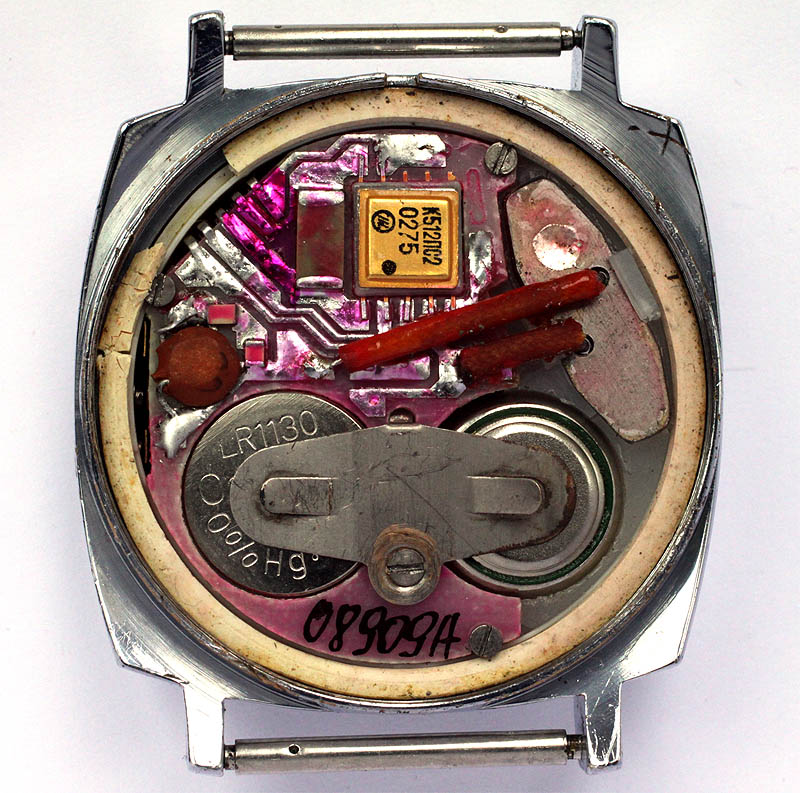 The plates are look like but still has many small differences. Below there are plates from this watch.
For example below pics of plates of more traditional watch. You can see different design, additional parts.
But the most difference is display design. The first pic - crazy watch and the second one - traditional one.
This watch has 33 pins, traditional only 27.
Display is very interesting. It has 5 separate bottom layers for digits and dots, so it has 5 separate connections to chip. Display is in 24 hours format and it has ability to show even first digit in 7-segment format (russian displays of that period had 3 segments for 1 and 2, foreign had one segment for 1 - first digit).
Pay attention for bottom layer connections anf for the first digit.
Here there are markings on the display
I found common markings on Peter's Elgin LCD watch
http://www.crazywatches.pl/elgin-time-capsule-lcd-1974
For now the only watch of this type is known, so I guess there vas produced very small qty of these interesting watches. Why russians tried foreign LCD - is the mystery. All changes with base and plates were made just to serve this type of display. Maybe somebody helps me with info about this display of LXD Inc .
The proof of the pudding is in the eating...